Prospect development is anything but linear.  Outside of the arena, young men develop in fits and starts both mentally and physically.  Prospects add the development of high-level motor coordination, hand-eye coordination, spatial awareness, reaction time, skating skills and hockey sense.  The random spacing of incremental gains made in each of these areas shows up as bursts of overall improvement or periods of stagnation.
Two major influences on the spacing of those gains are injuries and luck.  Lowetide constantly reminds us of the impact injuries have had on certain Oilers' prospects, and with good reason.  Talented men like Marc Pouliot caught the injury bug and lost multiple season's worth of playing time in the most important years of his career.  Doug Lynch tossed a season in the toilet while playing through the pain and trashed his career in the process.  Should a prospect suffer a significant injury during his key development years (ages 18-21), his entire career is placed in jeopardy. 
The other major influence on the development curve is dumb luck.
Exhibit A:
---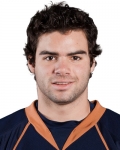 Phil Cornet
---
---
G
A
P
SOG
S%
2011 -

Phil Cornet

12
2
14
31
38.7
---
Phil Cornet is on a tear.  Our own Neal Livingston has called Cornet a different player and a changed man.  He's opened the Barons season as the second coming of Tim Kerr, standing in front of the net, whacking away at rebounds and deflecting everything that comes near the crease.  Thus far, luck has been in his favor.  In 16 games, he's tallied 12 goals on just 31 shots for an eye-popping .387 shooting percentage.
We know his luck won't last and eventually he'll cool down.  But how lucky is he?  If we fire up the monte carlo simulator (thanks to Neil Greenberg for the help in getting the machine up and running), we find that the odds that a career 10% shooter will have a hot streak of 12 goals in any sample of 31 shots is 0.0019% or ~1 in 62,500.  The odds are long that this would ever happen in Cornet's entire professional career.
Cornet's out-of-this-world luck has people taking notice, but would they take notice if Cornet had something closer to his long-term expected scoring rate of 3 goals?
Exhibit B:
---
Ryan Martindale
---
---
G
A
P
SOG
S%
2011 -

Ryan Martindale

0
4
4
28
0.00
---
Ryan Martindale is in a slump.  After signing his entry-level contract, Martindale was dispatched to Stockton to hone his all-around game and adjust to professional hockey.  Through 12 games with the Thunder, Martindale has 28 shots on goal, good for 4th on the team, but has yet to score. Hired knuckles Cam Abney has 1 goal and 2 assists for Stockton, an especially rough comparison for a gifted scoring centre.
His struggles have Ottawa 67s fans asking why he left in the first place and he's become the forgotten man from the golden "rebuild" draft class of two years ago.
The monte carlo machine says this will happen for 5.23% of 28 shot samples, or ~1 in 20, for a 10% shooter.  Essentially it's a common occurrence for statistical abnormalities, or "a career" as Ladislav Smid would call it.
Cornet's riding some good luck, getting the prime power play opportunities in Oklahoma City and seeing his name associated with "call up" and "Oilers".  Martindale has been cursed with bad luck, outscored by Cam Abney and is stuck in Stockton with no hope of moving up for the near-term.  As much as health can make or break a career, luck can do the same, open doors or kill opportunities for young players.