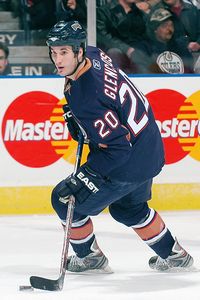 Robin Brownlee has an
interesting piece
over at Metro News today about the Ryan Smyth trade. The bottom of the article includes two items which have been bandied about the Oilogosphere for the last little while:
Curtis Glencross was a nice fit on the fourth line after coming from Columbus, but if he wants close to $2 million a season, and I'm told he does, he's over-pricing himself by $600,000 to $700,000 … Would the Oilers package Rob Schremp and injury-prone Joni Pitkanen if it would land them Florida's Jay Bouwmeester, who has played all 82 games in three straight seasons?
The first item is something I've referenced a few times, notably
here
and Brownlee came to the same conclusion I did- if he's looking for 2 million, it's a gross overpay.
As for the Pitkanen & Schremp for Bouwmeester proposal, in Lowe's shoes I'd do it in a heartbeat. Maybe faster.