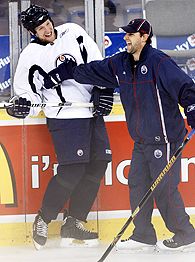 So, after reading David Staples
latest post
at Cult of Hockey, I felt a little bad for him. That's an ugly trial he's covering, and to make matters worse I went and basically said "Ladislav Smid might turn into Jaro Spacek, if we get really lucky." If you're a Smid fan, that isn't terribly nice.
So to make things up to him, I will spend this entire post saying nothing but positive things about Matt Greene. To start with, I think Matt Green is a funny guy. This
clip
is absolutely priceless.
"When you've got an offensive juggernaut like Marty Reasoner coming down on you and doing what he does best, scoring goals- all you can try to do is try and stop the bleeding, you know?"
Hockey's Future did an
interview
with Greene a little over three years ago. There's a lot of stuff there, and from it you can begin to get a picture of what Greene is like as a person. On being a captain:
So it's different but I think that when you're a captain on your team, you're a captain for a reason. You just keep doing the things that you're strong at. If you're playing your game the way you're supposed to then the team will feed off you and feed off of the way you play. It doesn't matter if you're a goal scorer or a defenseman. That's the way it's been all year and we try to play to our strengths.
It's nice to see that Greene tries to stay within his game, playing to his strengths, not trying to be something he isn't .

You take a look at yourself in the mirror a little bit more after losses. It's tough at the beginning, but once you get a feel for it, it's great. A lot of people say that it's a burden but I don't look at it like that. I believe it's an unbelievable opportunity to be a very big part of something and to be proud of yourself at the end of the day.

I don't think there's much doubt out there that Greene is a character guy at pretty much every level he's played at. I'm impressed that he admits the difficulty of being a team leader. Plus, apparently he liked Edmonton:

Being around the town, the organization and the other prospects was great. It didn't feel like you were competing for a job. Everyone within the Oilers organization was really nice and very respectful, so I had a really good time.

I really do like Matt Greene, and there's still time for him to turn into a top-flight shutdown defenseman. It took Smith time, and I don't have much trouble seeing Greene turn into a physical ultra-reliable guy in his own end. He certainly adds a skillset that the Oilers blueline needs.