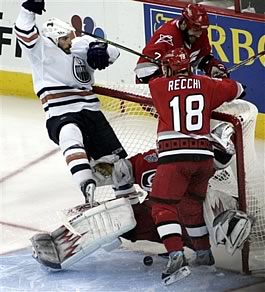 The 2005-06 Finals run was a special time for anyone who followed the Edmonton Oilers. It was the high-water mark for team performance in the Kevin Lowe era, and for younger fans like me, the first chance to follow a real contender from start to finish.
It was also a miraculous time for Fernando Pisani. An excellent checker, a guy who excelled at doing all the little things right, blossomed into the league leader in goals. The game 5 short-handed overtime goal was probably the most emotional goal scored that year, especially given how dominant Carolina's powerplay had been.
The league
announced today
that Pisani, along with Chris Chelios and Jason Blake, is one of three finalists for the Bill Masterton Trophy- awarded for dedication, perseverance, and sportsmanship.
Pisani, a late round draft pick and long-time minor leaguer, got a shot under Craig MacTavish, because MacTavish is one of those coaches who evaluate players based on what they bring to his team as opposed to what the media, or their draft pedigree, says about them.
Pisani lost 45 pounds, 6 pints of blood, and was going to the bathroom 20-30 times a day in July. By December he was back on the ice, and played every game until the end of the season.
With all due respect to Blake, who was diagnosed with leukemia, and Chelios, a robotic wonder playing long past his expiration date, Fernando Pisani must win this award. He deserves it.