Since we last checked in on Phil Cornet's wacky season, he's scored 3 more goals on just 7 shots, raising his previously insane .387 shooting percentage to the loftier .395, a number so outrageous even George Brett is jealous.  Cornet has 15 goals on the season and sits alone in first place in the AHL with a 3 goal lead on a 5-way tie for second place.  Cornet has appeared in 20 games thus far and has been held scoreless in 9 of them.  He's also generated 1 shot or less 9 times.
---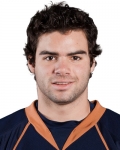 ---
---
---
I demonstrated that he's still working in the whale tail, and expected goals from his shot totals should be ~4, but while Cornet is still not a hockey version of The Hummer, like say Teemu Hartikainen, he has increased his shots per game to 1.90, up from 1.43 in 2010-11.
Cornet, who has accounted for 21.4% of the Barons' goal total also leads the AHL in percentage of goals:
Cornet is now in a very interesting spot: the Oilers have lost Taylor Hall for a month and Linus Omark is still rehabilitating his broken ankle. Should another injury befall the big club, Steve Tambellini has a choice to make. Should he call on a veteran AHL player with NHL experience like Josh Green, or should he call on the hottest hand in professional hockey?