Editor's Note: We don't agree with much in this section of gcw's plan, but it's his continuation in a very well-written series.
 Post 4: Trades, Free Agency and Bridging the Gap
This post looks at some more speculative elements of the GM role, trades and free agency.  The point here is to avoid Lubomir Visnovsky - type trades where we trade for more of what we already have (Sheldon Souray), and focus on leveraging depth (left wing and right wing) to fill holes (1st line centre, top pairing d-man).  It's also to avoid crippling free agent deals like Wade Redden, Ilya Kovalchuk and Sergei Gonchar.  That's not to say free agency should be avoided.  Far from it.  But it must be used wisely.
Using trades to fill some holes:
So now let's look at some trade options to help move the plan along. Based on the previous analysis, our trade-able assets are:
Ales Hemsky
Dustin Penner
Sam Gagner
Other assets that can/should be moved include:
Anything you can get for Jim Vandemeer, Jaques, Zack Stortini, Kurtis Foster, and the rest of the pretenders in the line up should be a bonus.
If you want to be bold, here are some trade scenarios to explore with an increasingly desperate Brian Murray (with cap implications):
Oilers get

Senators get

Comments

 Alex Kovalev $5M

 Draft pick

 Sam Gagner $2.25M

 Gilbert Brule$1.85M

 This trade works for a number of reasons.  Rumour has it Murray wants  to rid himself of Kovalev's contract and gain some cap flexibility.  You have too many smallish forwards and you need more stud defensive prospects.  The draft pick is the price to take Kovalev's contract.  Murray can say he didn't give up the future. 

It's pretty obvious what Cowen could bring to the Oilers.  Top pairing potential with serious clean out the front of the net size.

 Alexei Kovalev $5M

 Jared Cowen

 Draft pick

 Dustin Penner  $4.25M

This trade also works. If you have to throw in Andrew Cogliano to make it happen, so be it.  Though the draft better be a second rounder in that case.  Penner would look great with Jason Spezza and therefore would give the Sens an immediate boost.
But there are other deals to explore:
Oilers get

Other team gets

Comments

Washington

Ales Hemsky  $4.1M

Carlson is probably the better of the two, but either fill a big need for the Oilers.  If you catch the Caps in a slump, you have a better shot at Carlson (whoops, weren't the Caps just in a major slump).

Caps are under huge pressure to win now, and have the cap space to make the deal work.  This offer also provides insurance in case Semin walks this summer.  Make the offer and see if they deal.  You may have to throw a d-man into the deal to make it work.  Foster and Belle are possibles.  If Foster or Belle are included, a draft pick should come back to Edmonton. 

The Oil get a shot at a top pairing defenseman. Nuff said.

PS - don't take Semin if they offer him.  We don't need another high priced left winger!

Joe Colbourne

Bad contract of their choice (Ryder?)

Boston

Dustin Penner  $4.25M

Where is Colbourne going to fit in Boston when he is behind Savard, Bergeron, Seguin and Krejci?  Someone is going to get this kid at the deadline and it should be the Oilers.  Bruins are also under big pressure to win now.  Gagner could be substituted for Penner in a pinch.

Bad contract of Boston's choice

Boston

Ales Hemsky  $4.1M

This deal only happens in very special circumstances, but if they do materialize, you need to be ready.  Those circumstances are: Marc Savard is back and playing well.  Seguin is struggling.  Bruins are feeling they are one player away from winning it all. .  Pressure is high in Boston this year and you have a long trading history with Boston going back to the Sather days. 

If you are Boston, this leaves you with Savard, David Krejci, and Patrice Bergeron at centre with Nathan Horton and Hemsky has your top two RWs.  You still have Colbourne in the system to replace Savard in a couple of years.  What's not to like about that?

The Oilers are going to have to take a contract back as well to make the deal work cap wise, but who cares if you get Seguin?  It's probably Ryder since he is a RW. 

Do you throw Ryan Martindale in to close the deal?  Sure, if you have to. 

Bad contract of Boston's choice

Boston

Ales Hemsky  $4.1M

Devan Dubnyk $1.1M

With Tim Thomas playing so well, would the Bruins deal Rask?  You really would have to give up something good to get him - Hemsky or Gagner most likely. But wouldn't it be worth it?  Rask could be your goalie for the next 10 years. 

Pittsburgh

Ales Hemsky  $4.1M

This is a doable trade if Sidney Crosby's 25 cent wingers are struggling.  You can't pay a third line centre $4M per in a cap world and have decent wingers for Crosby and Malkin. Have you seen the Penguins depth chart?  It has Mike Comrie listed as the top RW.  That's scary for a Cup contender.  Scarier now he is out with injury. 

Fraser takes over third line duties for Pitt, or they stay with Letestu and use Fraser for depth. Crosby or Malkin suddenly have a star winger to stoke the offence and compete with Ovechkin-Backstrom in Washington.  There are few teams in the league that could make an offer of this calibre for Staal. 

The Oilers then would have their 1st line centre to play with Hall and Eberle if you make this deal.  Even is Staal plateaus as a second line centre, he is huge and his cap dollars fit on the first or second line.

A win-win here. 

Jonathan Blum

Nashville

Dustin Penner  $4.25M

Nashville is a team that is always a little short on offence and deep on defence, so this may be a match of opportunity.  If Nashville feels like they can make a legitimate run in the playoffs, then a new year trade may be workable for the reasonably priced Penner.  Their top LW is the 36 year old Sullivan, he of the wonky back.  They are also weak on the RW, so they need pieces up front.

Radulov isn't coming back, so that adds to the pressure in Nashville.

Blum is a mobile defenseman who can rush the puck.  Blum has explosive speed.  His downside is he is not very large.  He has good hockey sense and is rarely caught out of position.  He projects to be a top 4 d-man. 

LA

Dustin Penner, Ales Hemsky, or Sam Gagner plus a goalie.

Jonathan Quick seems to have retained the top goalie slot in LA.  So, like with Rask, is there a deal to be had for the "other guy"?  Any of our three top trade-able assets would be a good fit in LA. 

If the ask is for Hemsky, I might want a draft pick coming back the other way. 
Two other players that should be pursued are Brayden Schenn and Erik Gudbranson.  There are rumours that the Kings might move Brayden Schenn for the right impact player for thier playoff run this year.  Schenn would look good with Eberle and Hall.  Rumour also has it Florida and Gudbranson are having contract "squabbles".   Scouting reports I have read put him NHL ready or close to it.  With Whitney as a mentor, how good could he be in a couple of years? Would Hemsky, Gagner, Gilbert or Penner as the centrepeice of an offer pry one or both free?
One more possibility, but more of a Hail Mary than the above trades:  Vasily Koshechkin.  He is a 6'6" goalie playing in Russia.  He's Tampa property and rumour has it only willing to come to the NHL if he plays in the NHL. He's 27 and played well for Russia in the Olympics.  His window of opportunity is closing to try the NHL.  If Tampa can't sign him or won't give him what he wants, maybe the Oilers should take a shot.  I doubt you would have to give up the farm to get his rights from Tampa. 
Okay, so we have explored some deals we should be pursuing.  Well, maybe not we, but you and your management team.  At the end of the day, none of these deals may pan out, but it's the thought process behind them that's important.  Any one of these deals helps fix a fundamental problem with the Oilers as they are constructed today - the pieces don't fit well together.  These deals take advantage of team depth and address team weaknesses.  They provide a path to balance, which is one thing the Oilers of the 80s had in spades.  Then the pieces fit.  Today they don't.  Tomorrow they can!  
So, start working the phones, but in the context of a plan!
Free agency
Other team's players:
Winning and strong management will cure the negative perception free agents have about Edmonton.   But it's better to enter that pool from a position of strength, which you can do if you don't NEED the free agents to be anything more than a finishing touch.  Look at Pittsburgh.  Siberia prior to Crosby and Malkin.  I mean, its Pittsburgh for crying out loud.  Now, everyone will take a look at playing there for a shot to win a Cup and play with those two stars, often at a discount rather than a premium.
The fact that you have to overpay for top talent in the free agent market is a killer as well.  It can totally mess with your budget.  But, the team has gaps and free agency is a source of talent, so what to do?
Generally, I am not a fan of targeting and overpaying top free agent talent.  This summer, Brad Richards and Alex Semin will likely get $7M each on the free agent market, or more.  Richards would be a nice fit in Edmonton, but he likely wouldn't sign here (too early in the re-build) and Semin is a left wing, of which we already have excess.  The remaining top forwards include Simon (pass me the stretcher) Gagne and Alex (disinterested and maybe washed up) Kovalev.  Yikes!  Hence my view we are going to need to trade for or draft a top centre.  We aren't getting one through the free agent pool.
But when you can go get Eric Belanger or Jeff Halpern types for cheap to fill out your bottom six, or grab an Andy Sutton to close out your defence, you are using the free agent pool effectively.  When you pay Kovalchuk $100M and blow your cap budget all to hell, you are not using the free agent pool well. 
And I believe this is where the Oilers should focus in free agency - improving their defensive capabilities. 
Your players:
This is simple: you can never, ever let a key player walk for nothing.  If by July 15th, the year before their contract expires, you can't reach a contract extension, you start exploring trade options.  If you wait to the deadline you get prospects and draft picks at best.  Prospects and picks are good this year, but after this year you need players that can make an impact right away.  And value for value trades happen in the summer, not during the season anymore. 
Don't let yourself get caught in the trap of "I can always trade him at the deadline". If you are making a run, you may not feel you can deal the player at the deadline (see Dallas with Richards this year), and unless you win the Cup, you will have hurt the team in the long run ( see the Raptors and Bosh, or Buffalo and Briere/Drury). 
You are approaching this critical period with Hemsky and Penner.  You need more than draft picks for these two players to advance the plan. If you trade them you need assets in return that will be on the team no later than 2012, and ideally by October 2011.
Bridging 2010 to 2013
While I am a huge advocate of bottoming out this year to grab a top prospect in this year's draft, at some point you need to start the upward trend in a serious way.  Next year needs to be the beginning of that process.  That means fixing two key areas of weakness - face-offs and penalty kill, as well as looking for some defensive size and grit.
This summer the Oilers should be looking to make some wholesale changes to the bottom six forwards.  Players to target in free agency may include:
With the exception of Laich, all of these players should be available for less than $2M and for shorter term deals (1-2 years).  How much better will next year's team be with a bottom six of:
Laich - Sutherby/Halpern - Upshall/Clark
Glencross/Rupp - Belanger - Asham
Much better would be my guess.  I am advocating the Oilers be aggressive in recruiting these types of players.  Belanger makes $750K in Phoenix.  Paying him $1.25M won't impair your budget.  Upshall and Laich are pricey, but at $2.5M for 1 or 2 years won't break the bank.  If you can't get them, trades should be pursued for similar players.  Paying Asham $1M to $1.2M won't hurt the budget either.  He is probably more interested in security so a 2 year deal should be enticing.  Ditto for Halpern who is making $600K this season. 
If you want to get a little adventurous and Philly hasn't been able to resign him, you might also want to take a run at Ville Leino for the second line RW slot.  If you could get him on a 2-3 year deal, even if you over paid, it would:
Make trading Gagner and/or Hemsky more feasible without hurting short term scoring production (this is not in any way to say Leino is as good as Hemsky)
Add a proven playoff performer who comes from a winning environment
You could also take a flyer on Tim Connolly for depth at centre if he would sign a 1 or 2 year deal. How good could he look between Hall and Eberle if he could stay healthy?
On defence, the free agent market looks similarly weak.  You could spend up to $5M on a player if you trade Gilbert, but on whom?  Top options currently include:
Ed Jovanovski (No)
Brian McCabe (Definitely no)
Chris Phillips (having on off year by some reports, likely to resign in Ottawa but some noise suggesting he won't, risky to sign long term - see Redden - but maybe OK for a shorter deal)
Scott Hannan (not convinced he is a top pairing d-man)
Joni Pitkanen (I would love to see him come back, but I doubt he would return)
Andrei Markov (too injury prone)
Roman Hamrlik (too old)
Eric Brewer (see Markov)
Kevin Bieksa (55 hits and 56 blocked shots so far this year, so maybe, if he would take around $3.5-$4M on a 2-4 year deal without a NMC)
After that it's all suspect players that are not likely to make a significant impact on the team's success.
With that, let's take a look at how the team could evolve (excluding trades) over the next two seasons leading to our 2013 view.
2011 is about improving defensively at forward and adding more grit.  The Oilers need to be a forechecking team that wears down defences so the kids can wheel in the latter half of the game.  They need defensively responsible forwards to help a still suspect defence.
As I have said previously, I think Penner will not resign with the Oilers, opting for a less demanding media environment somewhere in the US.  As a result, he needs to be traded no later than this summer if we want more than draft picks for him, and I think at this point we need NHL-ready or close to NHL-ready prospects, not draft picks to move the plan forward.  I also believe Hemsky needs to go because he is our best bet to get a top centre or top defenseman, whichever we don't get from the 2011 draft.  While I would also explore moving Gagner, I can understand if the organization wants to given him one more season.
Depending on the return for Hemsky and Penner, the chart below could change significantly.  For example, if Hemsky brought you Jordan Staal, no need for the flyer on Connolly.  Same principle applies if they brought a top defenseman back in return.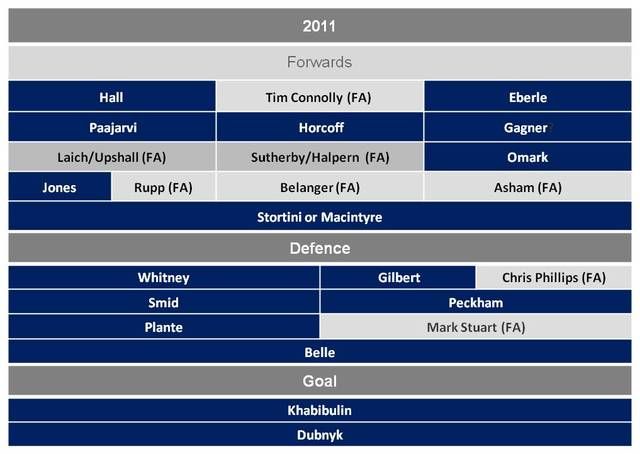 By 2012, we should see the top draft pick from 2011 playing on the team, either as a centre or defenseman.  But since picks 2-5 can take time to develop (see Turris and Van Reimsdyk), the plan needs to account for development time.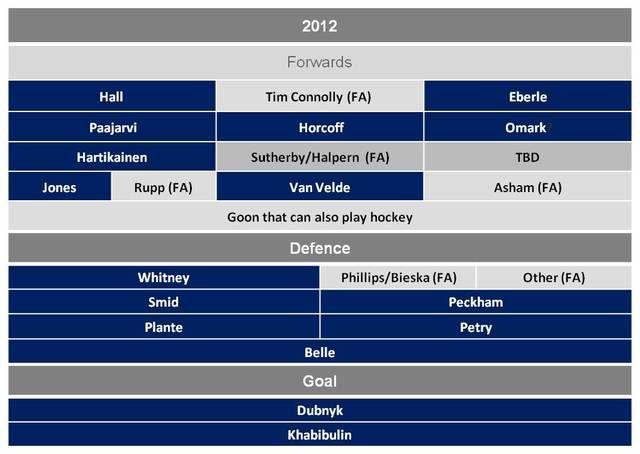 Now back to 2013
By summer 2013, Gilbert should have been dealt, as should have Gagner and Horcoff (if possible).  
Note this summer has the potential for some significant free agent action.  Crosby, Getzlaf, Perry, Jordan Staal, Horton, Zajac, Edler, and Weiss are all slated for free agency that summer. If the pattern from the past few seasons holds true, most or all will be resigned before they can hit the open market, but having cap flexibility in summer of 2013 could be a significant benefit if more of these players hit the market.  Jordan Staal, for example, will only be 25 years old.  How good would a 28 year old Nathan Horton look as the second line right wing? 
You can't go crazy if these players are available, but if you are showing real progress as an organization, you might find one good player to help push the team along.  Just don't blow up the cap budget to do it.
It would be nice to see Adam Larsson, Ryan Nugent-Hopkins or Sean Courtier filling in one of the open spots.  Nicer if Brayden Schenn, Gudbranson, Jared Cowan, one of Boston's top prospects or Jordan Staal is filling in the other.
Not all of the prospects in this chart will work out as forecast.  Free agency can be used to mitigate risk in bottom four defenseman and bottom six forwards.  Trade of Hemsky, Penner, Gagner, and Gilbert should bring in significant enough returns to offset any other risks like Pitlick, Martindale, Omark, Plante and Petry not reaching there forecast potential. 
The other  risk is lack of veteran saavy amongst the group.  If players like Lander and Hartikainen aren't the leadership types they are reported to be, and the rest of the kids haven't matured enough yet, then you may need to move a bottom four d-man and a bottom six forward to add the necessary leadership and experience.  The early 80s Oilers were young at the top six forwards and top 3 defencemen, but they did a nice job of adding veterans in supporting roles.  Likewise, Peca and Spacek added veteran savvy in the 2006 run.  The trick will be knowing when to add those players, and when to let the kids learn the hard way. 
Conclusion
The team has some core pieces to work with which will allow it to build a contender, but not if the team continues meandering down the path rather than by working a plan.
The plan should focus on a playoff team by 2013 and a legitimate contender by 2015, if not a champion.  There should be specific milestones along the path to monitor progress (75-80 points next season, 80-90 the season after, playoffs in 2013, etc.). 
There are, of course, a lot of unknowns. I always tell my clients that while you can never be precisely correct, most of the time you should be directionally correct, and you need to keep working the plan as assumptions change.  For example, if the Oilers end up in a place where the best player available at the draft  in 2011 if Landeskog, or the Kings offered the Oilers Doughty for some key players, you would need to consider re-working the plan.  But clearly, if you don't have a plan, then you can't run scenarios and see what the impact of changes would be. 
If your GM hasn't sat down with you and run you through scenarios like these, then they aren't doing what is the most critical aspect of their job.  In hockey, success today comes from how well you planned 3-4 years ago.  Clearly, the Oilers didn't plan well, weren't clear on how the pieces fit from so many angles, that you have been and may yet spend at or near the cap with precious little results.
But you can change this.  You can bring in people that have the requisite experience in planning.  Much like your players need to have complementary skills and attributes, your management team needs the same.  Right now, your management team seems long on "hockey knowledge" and short on strategy and planning experience.
It's up to you.