Editor's Note:  gcw continues his series on rebuilding the franchise. Today he tries to make it all fit and fills in the holes.
Photo by Rob Ferguson, OKC Hockey, with permission.
Post 3: Skills, Fit and Talent
In my previous two posts, I explored the Oilers' history in planning, and the importance of having a Financial framework for planning your player acquisition and retention. 
With that budgetary view, what about skills and fit?  Let's face it, you can slot players into budgets effectively and still not win.  Planning, in all its glory, is multi-faceted.  In hockey with a salary cap, getting complimentary talent and skills is more important than one without a cap, because you can't spend your way out of trouble.
So, I started to look at the Oilers and the Oiler prospects and assessed some scenarios from a talent and skills perspective.
Like with the financial view, I made some assumptions about player development.  This scenario assumes players like Tyler Pitlick, Anton Lander, and Chris Vande Velde make the team by 2012 or 2013.  I was also looking for trade-able assets to help fill the serious holes I see in the line up.
The forwards:
 Potential players in the system:
Curtis Hamilton
Teemu Hartikainen
Okay, so this has to scare us a little bit.  We have no legit first line centre that meets the criteria above with the team or in the system.  2011 draft or a trade of an existing asset is required to fill this glaring hole.  Left and right wing seem to be set.  Taylor Hall and Jordan Eberle play well together and their skills complement each other. 
We have reason for optimism on the second line.  I have assumed Magnus Paajarvi matures into the 2ndline left wing role.  He has the size, skills, and work ethic needed for a second line player.  It will be interesting to see how his physicality evolves as he matures.  For the moment, I have assumed average physicality from Paajarvi.  Paajarvi succeeding makes Penner expendable.  As for centre, where size, above average offensive aptitude and faceoff prowess will be key, Pitlick seems to have the potential to fill this role, with Martindale hedging our bets. 
You have to be worried about Martindale's compete though.  If he is not willing to compete every night, regardless of skills, you can't use him.  Players who don't compete every night become cancer in a locker room.  Fortunately, early returns this season show him working harder.  Keep an eye on him.  When he graduates, give him 2 seasons in the AHL to learn the pro game and create competition for Pitlick.  If they both succeed you have another tradable asset to fill holes, of which we still have many.
That leaves the second line right wing open.  Sam Gagner and Linus Omark are potential candidates for this role.  Watching Gagner play since Horcoff went down I am not convinced Gagner is the right fit for the Oilers, at centre or the wing.  He can't win face-offs consistently, so centre is out. His offense will eventually be good, I think; maybe even 60 points per year.  But his defence is not strong and I am not convinced it ever will be.  Omark may have the same offensive potential, and more game-breaking ability.  I am not sure how coachable Omark is, but if he can be taught to be adequately defensively, I would seriously consider keeping him over Gagner.  I also like Omark's compete level.  I think he wants to win, he wants to excel.  The Oilers need all of that they can get.
Hemsky could also fill the second line right wing role, but he is so far off the salary slot that I haven't seriously considered him.  Going into this season, I would have given Brule a shot at either the centre or right wing slot.  But his inconsistency and lack of size this season has reduced his value in my view. Horcoff fits the bill skill wise for the second line centre role, with his points per game, two-way play, and face-off percentage.  But his injury history and salary make him a bad fit, regardless.  It's not the end of the world, from a skills and fit perspective, if Horcoff is in the second line centre role, but it will make it that much harder for the GM to fill other roles given the salary implications. 
Out of our top six, we have strong candidates for 4 of six roles (Hall, Eberle, Paajarvi and either Pitlick or Martindale).  We have 2 holes to fill - 1st line centre and 2ndline right wing.  We have a dark horse in Omark to fill the RW slot.  We have three trade-able assets with what should be strong market value: Hemsky, Penner and Gagner.  We have one problem contract: Horcoff. And we have Brule to deal with.
We are hoping Anton Lander is the anchor for the third line.  For the open LW spots on the 3rd and 4th lines, you have two intriguing prospects in the system in Teemu Hartikainen and Curtis Hamilton.   Both have size and can score at a respectable rate.  Hartikainen is reported to have leadership skills as well, something that you can never have enough of.   Both have high compete levels and are responsible defensively, and with the way the forward group is trending, you will need that out of your third line.  Can't say it enough, with a smallish, offensively oriented top 6, the mantra for the 3rd line needs to be: grit, size, leadership, strong defence.  The open 3rdline RW should be reserved for a veteran who is strong defensively and has a winning resume.
Van Velde may be the leading candidate in the system for the 4thline centre slot as he seems to bring the right skills and size to the table. 
Now for the Defence: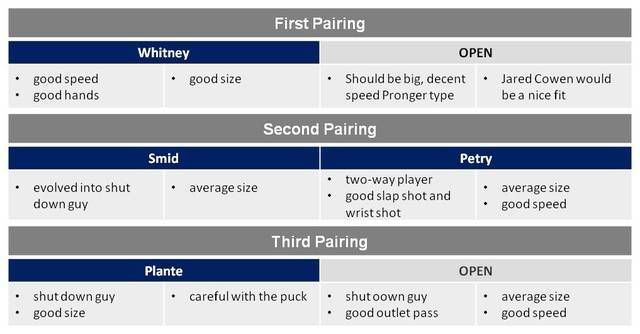 Potential players in the system:
Looking at the top 4, this is also a bit scary.  While early returns suggest Ryan Whitney is 1-2 defenseman, Tom Gilbert is too inconsistent and too soft to be a top pairing guy.  He is also not a good fit with Jeff Petry on the second pairing for the same reason. 
Ladislav Smid seems to be developing into a number 4 guy, although there seems to be some debate in the blogosphere on that.  My bet is that Smid can be a number 4.  If not, Alex Plante may still develop into that role, and Marincin also seems to have 3-4 potential, so there are options.  Worst case, a final pairing of Plante and Smid could be one of the better 3rd pairings in the league.
Regardless, Gilbert is trade bait and if this season continues to tank, aren't you better dealing him for prospects or picks and let Shawn Belle or Richard Petiot fill in for the remainder of the season? Is Gilbert worth a late 1st round pick or a decent second round pick at the deadline?  You should try and find out. Let's call him a trade-able asset regardless.
The 2011 draft will have a big impact on how you view the defence.  If you end up in a position where you can draft Larsson, then the defence is likely set.  If not, some trade-able assets should be used to plug the gaps. 
It would be important to fill in an open spot with a character veteran.  A Jaroslav Spacek or Jason Smith type would be best.  Warrior mentality, rarely flustered, punishes the opposition. 
I view Chorney, Blain, Motin, and Davidson as wildcards.  Davidson is the one who intrigues me most and I am pulling for the kid.  For whatever reason, I have a soft spot for Motin and I hope his hard work pays off with the number 6 slot on the blue line. 
And the goaltending:
Potential players in the system:
This is probably the scariest area in terms of the plan.  As a franchise, the Oilers have a horrible track record of developing goaltenders.  And I mean HORRIBLE.  On the other hand, the franchise has a strong record of finding goalies elsewhere (Joseph, Dwayne Roloson).  Still, planning on other franchises continuing to have brain cramps in goalie trades is risky. 
One option is to employ the Chicago/Philly model that goaltending isn't really that important, that your goalies just needs to be good enough, and stay with these three.  To do that you need to revise the plan for the defence to add a Chris Pronger type to the mix.  Not easily done, but it's the only way you can go with average goaltending.  Look at Chicago.  They had Seabrook, Keith, and Kim Johnsson on defence.  They had Patrick Sharp and John Madden up front.  Lander may become a Madden someday, but you are trending to a more puck moving, offensive team, so it's risky to bet on average goaltending.
As noted previously, you need to find out what you have with Dubnyk soon.  It is absolutely crazy that Dubnyk isn't starting at least 30% of your games, and probably 40-50%. Khabby won't be around when you are ready to win, so he is only relevant if you can trade him. 
And Roy is an intriguing prospect, so there is some hope. But he is not Jacob Markstrom.  You can't bet the future on him the way Florida can.  This World Junior Championship is proving that.
Frankly goaltending needs to be an area of focus over the next few years.  Drafting, trolling Europe and Russia, and trades should all be explored vigorously.  
Finding and developing talent
The next element of the plan to consider is talent development.
Losing franchises view late round picks as throw away.  They get enamoured with their early round picks and don't give late round picks much in the way of time, opportunity, and attention.  Winning franchises seek late round gems, view them as valuable assets and want them to succeed so they expand the size of the prospect pool and increase flexibility when trading.  You can toss 2ndround picks into trades to close deals if you are confident in hitting the odd triple or home run in later rounds. Look at Detroit.  They are the masters at this. 
You need to make sure your late round picks get extra attention, not less.  Omark, Hartikanien, Martindale, Blain, and Davidson all fit this bill.  Hit a home run with one or two of these players and the plan advances by light years.  Ignore them and you're back to relying on a free agent pool;  a free agent pool that views Edmonton as Siberia right now.  Don't ignore the foot soldiers as well.  You have a couple potentials in Kytnar and Motin that could do well in bottom six or bottom pairing roles.   
You also need to cast a wide net when you are a last place team.  That means you need more and better quality scouts working the US College ranks, Europe and Russia looking for late blooming gems.  Sure, these are long shots, but each 2nd, 3rd or 4thline player you find gives you more flexibility at the draft or trading table.  Don't be afraid to throw a little money at these prospects, especially goalies, even if they do end up in the minors. 
Talent analysis summary
We have some good foundation pieces at forward, and some glaring holes to be filled.  While the prospects on defence don't have the same draft pedigree as the forwards, there are some interesting pieces to work with, and a key hole to fill.  Goaltending is scary at best, shockingly pathetic at worst. 
We need some of Pitlick, Martindale, Maracin, Petry, Plante to thrive or the plan will take longer or require more trades to advance.
We have trade-able assets:
Hemsky
Penner
Gagner
Gilbert
And other assets that can/should be moved, including:
Brule
Horcoff
Khabibulin
Cogliano
In my next post, I will look at Trades and Free Agency to help move the plan along.