Editor's Note:  SumOil, one of our most frequent commenters and a valued member of The Copper & Blue community, took the time to tell us about his first experience at an Oilers' training camp - day two of the 2010 camp.  We'd like to thank Sum for doing this and for being a loyal reader.  If you've got a training camp experience you'd like to share, use the FanPost feature on the right sidebar.  All photos © SumOil, all rights reserved.

As I walked into the Rexall Place, I could not hide my smile. It was a good, sunny day with temperatures around 9 Celsius and a nice cool breeze. All I could think about was hockey. It was in the air and I could smell it, feel it, almost taste it. It was the start of the training camp! TRAINING CAMP! It's been more than five months since I have seen a single Oiler hockey game. 
So with a smile on my face, of which I am sure even the Joker would have been proud, I took a seat right behind the penalty box to savor the experience of my first-ever training camp. I arrived at Rexall at noon, hence I missed both team A and B practice. Team C had not yet taken the ice and two Zambonis were cleaning the ice surface. While I was trying to figure out how exactly Zambonis worked (yes, we engineers are nerds), I looked around to see that at least one thousand people were present in the stands. A thousand people, just to see the team practice. Wow. I couldn't help but feel sorry for everyone present. We fans are always so excited for hockey and the Oilers' management team doesn't appreciate our love for the game and for the team. Maybe they have forgotten that people genuinely get excited when they think about hockey and the Oilers. Maybe they don't feel answerable to the fans who leave their Saturday plans to just go watch the team practice. Maybe they have completely forgotten what being a fan feels like, else they wouldn't take advantage of our love as they do.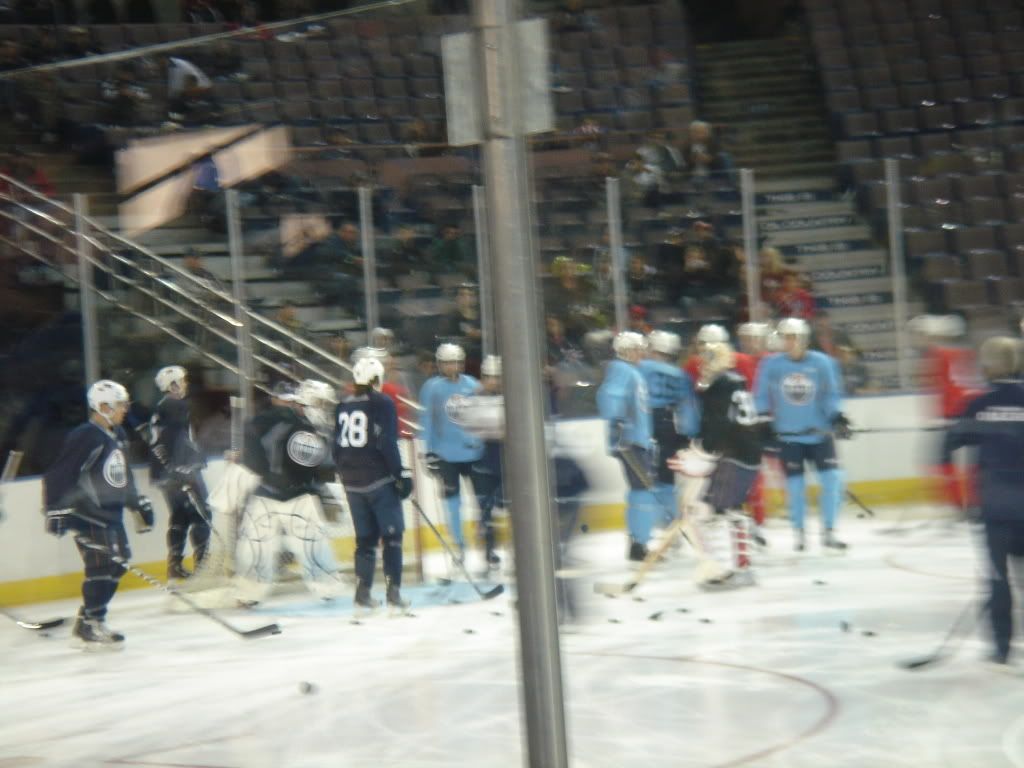 My thoughts were interrupted by a huge cheer and as I turned to watch #4, and #14 skate out on the ice and my smile was back! 
It was awesome just to see them all skate.  It was simply beautiful. One of the things I noted right away was that Jordan Eberle's skating has improved a lot, and did not seem slow by any standard. Actually, everyone looked fresh and eager to get on the ice. They all skated around for a while before they started skating with the pucks and shooting at the goalies. Soon after, I spotted Shawn Horcoff and Ladislav Smid. They looked healthy and skated very well. Shortly thereafter Tom Renney brought everyone together and started setting up drills. The first one involved players skating in pairs and passing the puck to each other. I did not have the training camp program to match the players with their jersey numbers so I was only able to rely on my knowledge of the player faces and the numbers I recognized.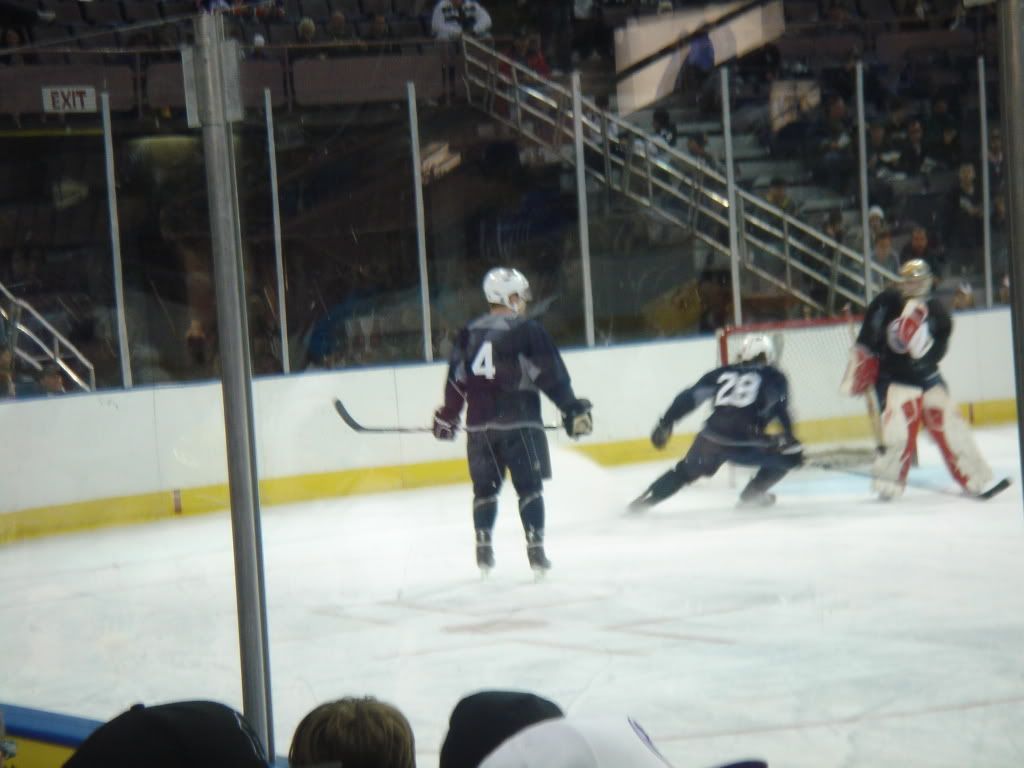 Taylor Hall watches Ryan Jones trying to score.
For the next drill, coach Renney had the players skate around with the puck and then shoot at the goalie. Horcoff scored, Taylor Hall scored, Eberle scored, I think Linus Omark scored too. Furthermore, Hall broke the glass on one shot and that drew a lot of cheers from the crowd who definitely enjoyed the moment. No, the goalie wasn't bad. Every one got many chances and there weren't any D-men to stop them either. Actually, I was impressed by the goalie and thought " Wow, Pitton is really not looking bad at all".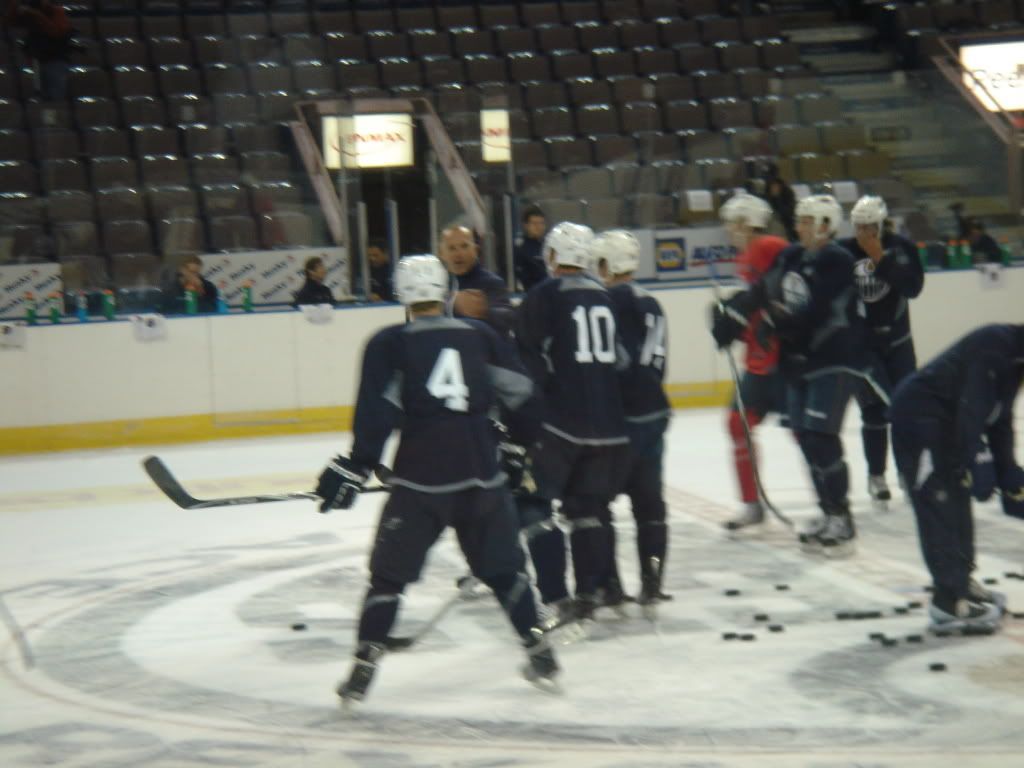 Hall, Horcoff, and Eberle about to go on a three-on-none.
The drills continued for a while before Renney again called the team center ice. Now he wanted a more specific drill. He sent out forward lines one after another on 3-on-0s. I think he wanted to see some chemistry, or maybe just wanted them to try out some passing plays. Here was the first time I noticed him. He was in a sky blue jersey wearing #71 and was pretty big. Since I had no clue who he was, I started referring to him as Malkin. Malkin was okay. He was skating, battling, doing everything everyone else was doing. I couldn't really spot anything to criticize except that he wasn't actually Malkin. After all, you can't really say anything when you see someone skate around. Hall, Eberle and Horcoff were skating as a line and even scored on one sequence.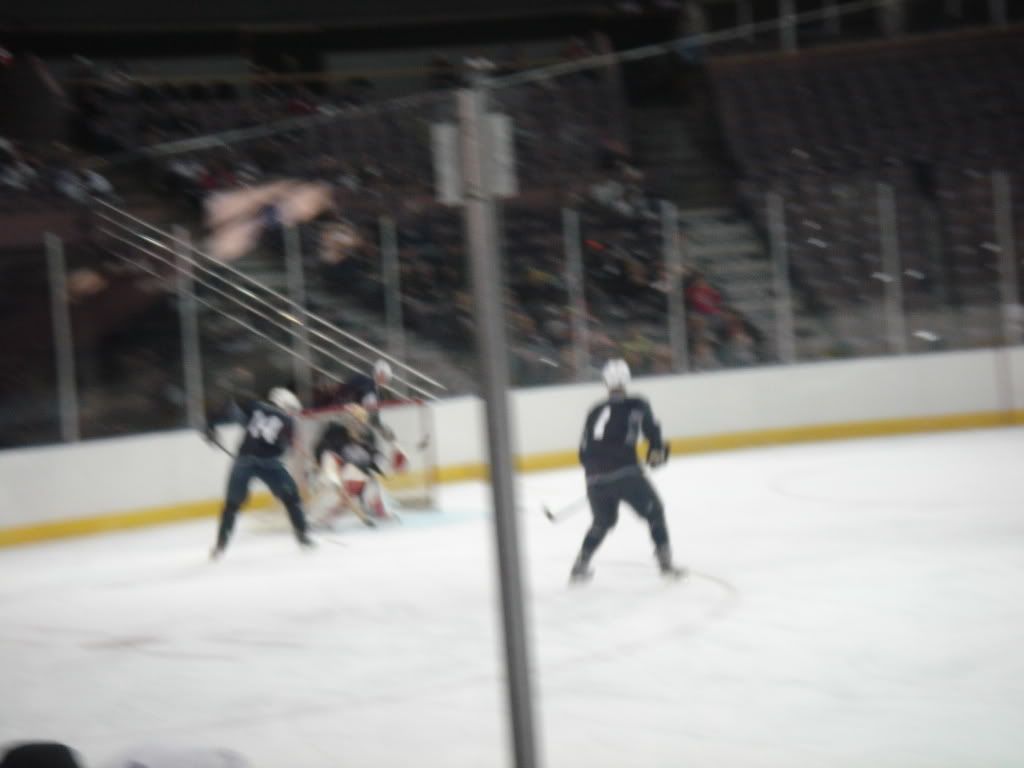 Eberle, Hall and Horcoff on the three-on-none.
After this, the head coach asked everyone to head to the drawing board and started setting up new drills, while everyone listened intently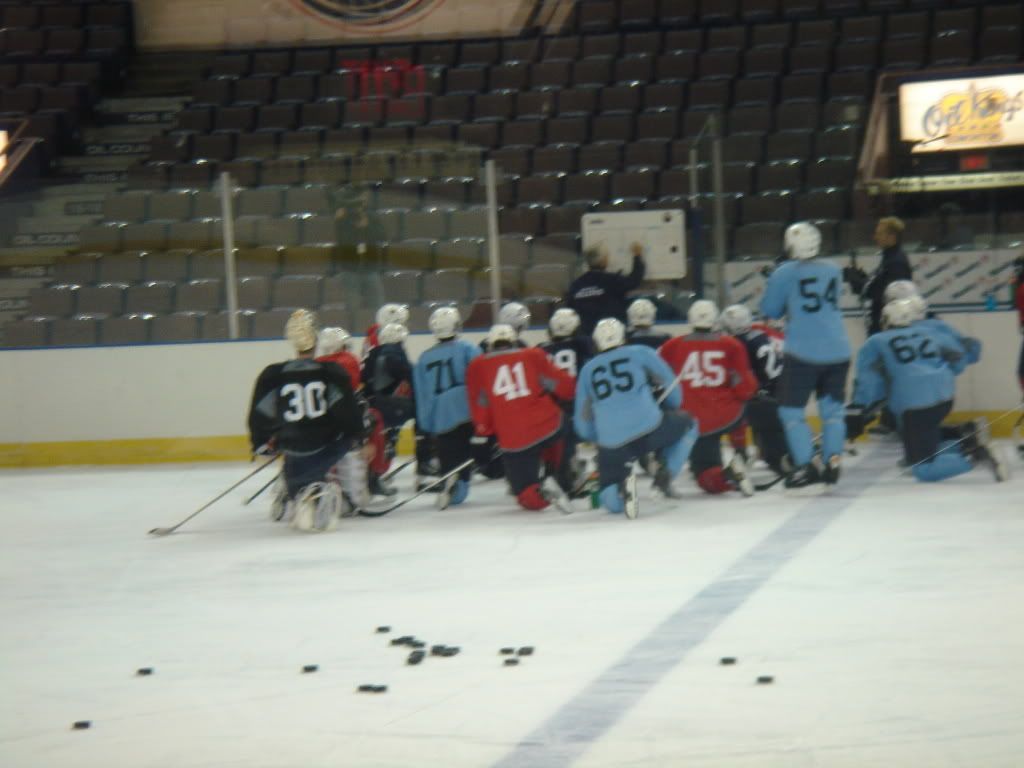 Players were divided into forwards and defensemen, and there were mini-scrimmages at both ends of the rink, forwards versus defensemen. I think the most impressive forward here was Omark - he scored a couple times. I was never optimistic about Omark, but he certainly excited me today. After about five minutes, the drill changed and there was a 1 vs 1 - F vs F, F vs D, or D vs F, it didn't matter - where whoever had the puck was supposed to skate it to the goalie and shoot, while the other player tried to stop him.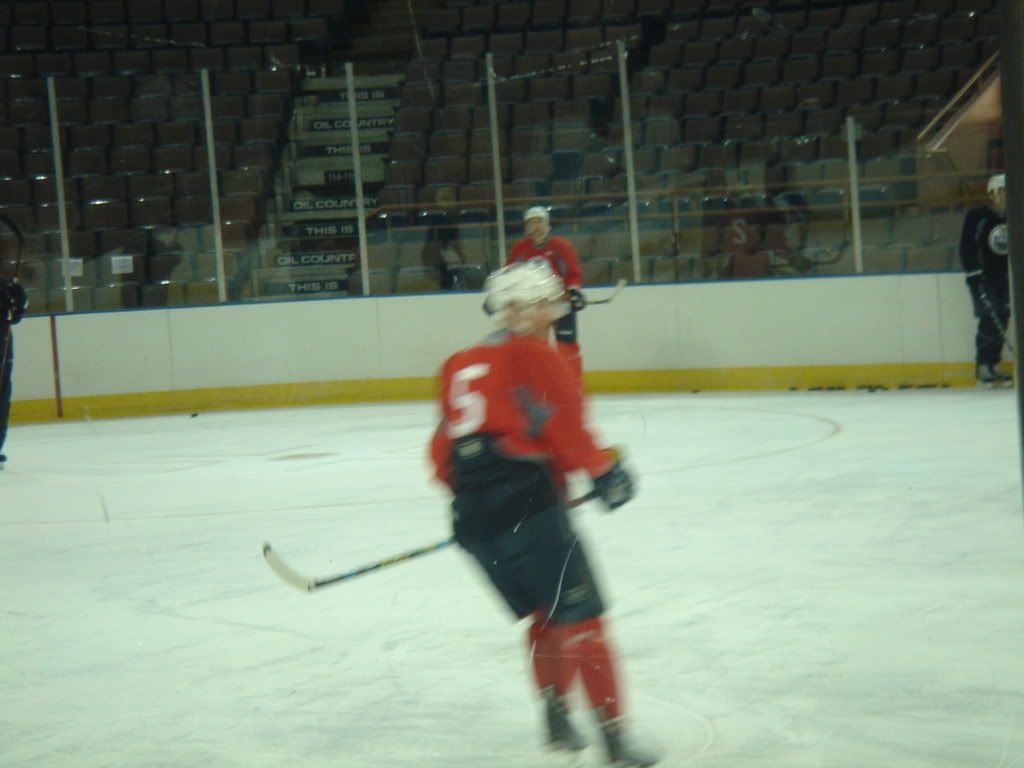 Smid on one of the shifts.
This drill was my favorite and I remember four specific sequences from it: (1) Shawn Horcoff vs Shawn Belle. Belle skated back pretty fast and then separated Horcoff from the puck. (2) Red Jersey vs Taylor Chorney . This guy in the Red Jersey skated past Chorney and took a shot. What struck me was that Chorney skated for a while and then gave up. I think Renney saw that too because he called him over and talked to the young defenseman. (3) Taylor Chorney vs "Evgeni Malkin". Chorney skated around Malkin, and took a very good shot. Malkin was embarassed. He was ahead of Chorney and then was four steps behind him when the sequence ended. This was the icing on the cake. I looked back and asked a gentleman to look in his booklet and find out who Malkin was, and he replied that it was Drew Czerwonka. Suddenly it all made sense. (4) Taylor Hall vs Linus Omark. Did I say that Omark impressed me? Hall had the puck, Omark stole it from him, gave it back, stole it again, gave it back and stole it again. In the sequence when Omark had the puck, Hall tried to take it away and almost did, but Omark still turned around and took a shot that was stopped by the impressive Bryan Pitton.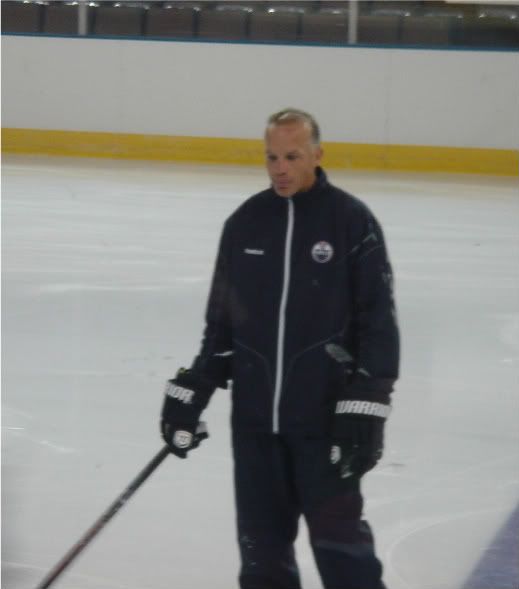 Buchberger watching someone zoom by
Now I was getting restless. I said to myself, "there's no way that is Pitton," so I again turned for help from the gentleman behind me and he told me that was Olivier Roy. And there I was smiling very hard to see that we have another very impressive prospect who doesn't get much spotlight. 
Soon this session was over and the Zambonis were out. I waited for around for about five minutes, but I had to leave. Here are a couple more pics:
Kingston Cannonball about to launch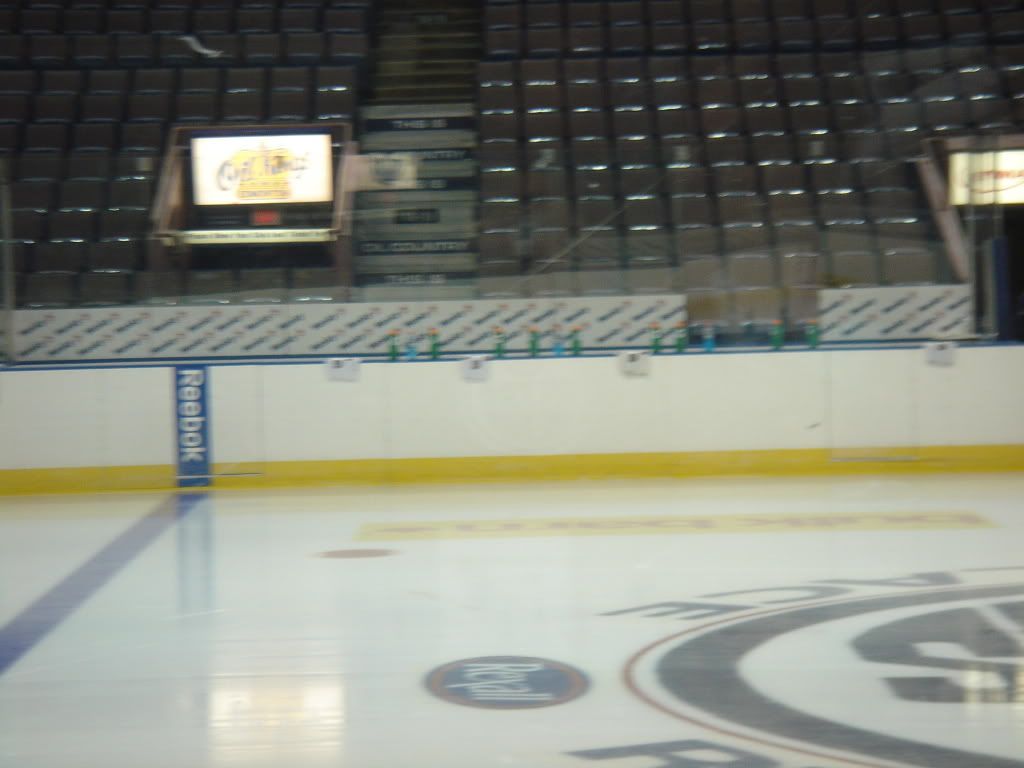 Oiler Bench on the prospect of facing Robyn Regehr