Editor's Note:  This is a continuation of Part 1, Let's Fix Those Oilers, Shall We?
Post 2:  Planning and Budgeting- How do we spend those dollars?
Planning and Budgeting
But before we can go selecting players, we need to have some guidelines for how we spend out cap dollars.  To do this well, you should set a budget per line, defensive pairing, etc. So, with that in mind, let's start about building one for the Oilers.
Why is this important? For every dollar you overpay on one line, you have to under pay on another.  And history has shown that you can't get out of balance and win.  Look what happened to Tampa Bay, Pittsburgh (after winning the Cup) and Chicago (after they won the Cup).  Tampa disappeared into hockey purgatory, Pittsburgh slipped from great to good because they can't afford wingers for Evgeni Malkin and Sidney Crosby, and Chicago had to dismantle itself this past summer and currently sits as a .500 team.  Sure, if you time your entry level contracts right, you can load up for a year, but that's it.  And, by playing Taylor Hall, Jordan Eberle, and Magnus Paajarvi with the big club this year, you are not going to time those entry level contracts right. 
If that wasn't warning enough, take a look at San Jose.  Great in the regular season. Doormats in the playoffs. Why, because they have over-allocated funds to Dany Heatley, Joe Thornton, Patrick Marleau and Dan Boyle.  These 4 players take up $28.3M in cap space. That's $28.3M for only one player with any playoff success or apparent heart/backbone between them.  Scary.  It's also 48% of their cap space.  When you throw in Joe Pavelski, Ryane Clowe and Marc Vlasic you are up at 65% of their cap space on 7 players.  That leaves $1.3 to $1.5 per spot to fill out 14 to 16 roster spots.  The Sharks will never win it all.  Never.  I hope that the Oilers' aspirations are higher than that. 
With that context, a potential budget allocation model could be as follows.  This model allocates the full $59M, which is risky.  Ideally, you would like to allocate $56M-$57M and leave a little in reserve for in-season acquisitions if you want to make a push.  Generally, though, I am not a fan of giving up the future for a so called "final piece of the puzzle" because they rarely seem to work.  So, let's set these guidelines with an objective of saving a little bit of money where we can.
Note:  this model also ignores salary cap inflation, but should be easy to re-set each year as the cap is adjusted.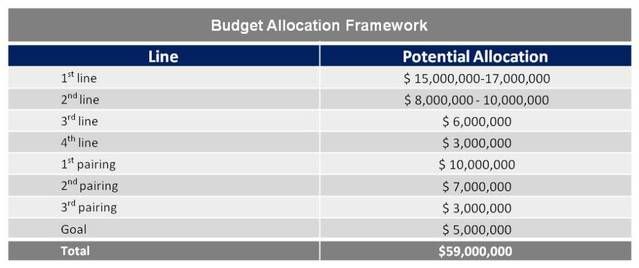 Let's look at the team as it should be 3 years from now, opening day 2013.  At this point, Hall, Paajarvi and Eberle will have finished their entry level deals.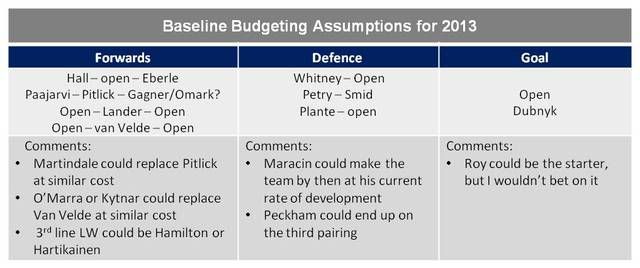 We have made some assumptions here, particularly around some prospects.  Some prospects may be interchangeable.  For example, Ryan Martindale could thrive and Tyler Pitlick could fall. They both project to be second line centre types, but odds are either would command a similar salary. I will assess this potential line up later, but let's go with it for now so we can project a budget by line and by player.
I should note, I have made some assumptions about who will not be here.  These include Ales Hemsky, Dustin Penner, and Tom Gilbert, whom I believe should be traded, either because they are redundant, do not fit the future model, are too frequently injured, or will most likely walk at the end of the current contract as UFAs.  I will discuss this more in a future post.
Here is how the budget world could break down for the Oilers in 2013 by the Forwards, Defence, and Goal
 Notes:
First line - need to consider possibility of Hall getting Steven Stamkos money
Second line - Need to project Pitlick (or Martindale) going to the $2.5-$4.0M range for their second contract.
Third line - Curtis Hamilton or Teemu Hartikainen should fit within the $750K to $1.5M range as 3rdline LW.
Fourth line - need to consider funds for a 13th forward
Again, there are some key assumptions here.  I am assuming Hall hits Ryan Getzlaf/Bobby Ryan like money rather than Crosby or even Stamkos money.  For every dollar more you play Hall, you effectively have a dollar less to pay his centre.  I am also assuming Eberle achieves Nathan Horton/Jordan Staal like money.  So, what does this tell us?  Optimistically, this would allow you to pay up to $5.5M in cap dollars for your first line centre, who you may get in the 2011 draft.  Ideally, you would pay $4-$4.5M and bank the additional cap dollars.  
You will need to be careful on your second line.  Paajarvi could command up to $4M, which means you only have $6M for the other 2 second line spots.  In 2013 you hope to catch a Pitlick or Martindale in the last or second-to-last year of their entry level deals so you can spend a bit more on your 2nd line RW. However, you also need to plan for their second contracts, which could be anywhere from $2.5 to $4M, depending on their offensive production.  So, timing deals on your RW becomes critically important.  
As I started to work through the numbers, it became more evident that Hemsky didn't fit financially, at least if Eberle is the player he appears to be.  If you assume Hemsky will want $5.0M to $5.5M per season, where does he fit? Not on the second line, that is for sure.  He also makes it hard to fit Eberle and Paajarvi on the second line if he takes the top line spot.  Hemsky is a talented player, but his injury history and impact on the budget suggest the Oilers are better off moving him to fill a need than resigning him.  Penner is likewise a financial casualty if Hall and Paajarvi succeed.  There is just no money for him.  
Linus Omark probably projects to fit in nicely from a cap perspective. Sam Gagner is harder to forecast.  Given where he was drafted, one would expect him to be trending to a higher dollar value contract.  Given where his offence is trending, he may fit the budget, but if his offence stays mediocre and he is small and less than average defensively, it's hard to make a case for keeping him. Basically, I am also not sold on his fit with the organization, as I will outline in a future post.  So, I have left the RW slot open, with Omark or Gagner as a question mark. 
Your third line works well in the short term if Lander succeeds and is on his entry level deal.  But if he is successful you also need to budget his upside for his next contract.  Ditto for Hamilton, whom you hope is your 3rd line LW.  It could also be Hartikainen, who falls to the 4th line otherwise. A veteran with leadership skills should get up to $2M for the third line RW spot.  This would free up dollars that may be needed on the top 2 lines
The fourth line is about value deals. As noted in the chart, you should never, ever, overspend on this line.  Period.  Shoot any GM who does. 
Now for the defence: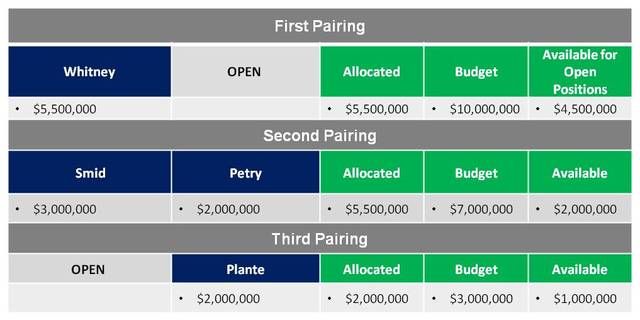 First pairing - Gilbert fits financially, but not skill wise.
Second paring - Could be overly optimistic on Ladislav Smid.
Third Pairing - This is a guess at Alex Plante, assuming he develops nicely. Could be less. Could flip with Smid if he develops better than I think and Smid plateaus. Theo Peckham could fit into the six defenseman slot financially and skills-wise.
Defensively, Ryan Whitney is a nice fit both skills wise and budget-wise on the top pairing.  Tom Gilbert is another story.  His current salary slots him into the top pairing.   You need more bang for the buck from that slot and I would look to move Gilbert.  The only question is when.
The second pairing projects well from a budget stand point if Smid and Jeff Petry fill those roles.  This model also projects value from your third pairing.  Avoid temptation to throw Gilbert money at Petry on his second contract.  Gilbert is overpaid and you won't know for sure on Petry by then.  Martin Marincin seems to have the potential to replace Petry or Smid on this pairing, but the financials should be about the same. 
At this point it is hard to predict what the 3rd pairing will cost.  Money saved on 1st and 2nd pairings would be well spent here.
And last but not least, the goaltenders:
Goaltending is a complete crapshoot here.  I have left the top slot open because your current management won't play Devan Dubnyk enough to find out what he is worth, and it is too early to make a call on Olivier Roy.  This is discussed more in a subsequent post. 
The Horcoff Effect
I purposely ignored Shawn Horcoff when pulling the analysis above together, focusing more on players that needed to be resigned.  But Horcoff is under contract to 2014/15, so we can't ignore him.  The impact of over-valuing players in a salary cap world cannot be better illustrated by any player more than Horcoff.
Look what happens when we slot Horcoff in on the second line instead of Pitlick (or Martindale).  Under no circumstances should you have a plan that slots Horcoff in as your top centre in 3 years. Or, frankly, as your third line centre.
See, we have a major problem.  We can only afford to pay our 2nd line RW $500K per season.  This is not realistic, which means we need to "go cheap" somewhere else.  But where? We need to find $2-3M in additional cap dollars. 
Do we take it from the top line?  Ouch!  Is this the place we really want to go cheap?  Probably not, but we can hope to squeeze up to $1M if we have a young stud on the last year of his entry level deal.  Under any other circumstance, our top line centre probably isn't our long term first line centre.  We will end up like the Ducks when they were "Mighty" and had Steve Rucchin as the top line guy between Teemu Selanne and Paul Kariya.  Respectable? Maybe, but not a winner.
So, may be we squeeze some dollars out of the 3rd line?  Hmm, our top two lines aren't strong defensively, so if we go cheap here, we have some real risk we won't be able to shut down anybody and that will kill us.
So, the defence then.  If Marincin is a star, or if Petry exceeds expectations, then maybe we can find some money on the defensive end, but those are big ifs.  We should have a scenario for this, but we shouldn't bank on it.
So that leaves goaltending.  We have $5M allocated to two positions.  If we shave a $1M-$2M out of here, we either have to catch a young goalie on the rise, or be confident our defence is so good we don't need a top goalie.  Well, I like how our defence projects, but I don't love it that much.  So, we cross our fingers on Dubnyk or Roy, or some as yet unknown goalie exceeding cap cost? That's a big gamble. Chicago took that gamble with Marty Turco this year, and I would say so far the results have been less than promising.
I am not saying Horcoff has no value to the Oilers.  In fact, I have liked his play this season and his work with Hall and Eberle particularly.  But in 2013 those kids won't need a chaparone any more.  Not at that cost, anyway.
This should highlight the value of planning from a financial point of view.   Your GM needs a budget allocation model that is continually being worked, refined, and updated.   
In my next post, I will look at Skills, Fit and Talent.